300 free 50 swim / 25 drill about 5:00

FIRST SET = 650 yards

8 x 75 25 backstroke kick / 25 stroke IM order / 25 free swim 1:45
50 easy

SECOND SET = 1,000 yards

10 x 100 free swim 1:55 (1:35 in) - I tried to do all the flip turns but couldn't, kept running out of air.

WARMDOWN = 150 yards

150 easy

Total workout = 2,100 yards in ~40-45 minutes
2016 cumulative distance = 64,100 yards (36.4 miles)
WARMUP = 300 yards


300 free 50 swim / 25 drill about 5:00

FIRST SET = 600 yards

8 x 75 25 backstroke kick / 25 stroke IM order / 25 free swim 2:00

SECOND SET = 1,000 yards

10 x 100 free swim 1:55 (1:35 in)

WARMDOWN = 100 yards

100 easy

Total workout = 2,000 yards in ~40-45 minutes
2016 cumulative distance = 62,000 yards (35.2 miles)
WARMUP = 300 yards
Lake County Aquatic Center
here in Leadville! And who was there but my CLIENT - & he kicked my ass! I'm trying not to be sullen about that - he says he swims 2-3 times a week religiously. If I swim 2-3 times a week religiously, maybe I could kick HIS ass.
Also - swimming at 10,200 ft? It's an ass-kicking all on its own.
WARMUP
300 free 50 swim / 25 drill
FIRST SET
6 x 50 kick 1:30 freestyle kick: 5 kicks on one side, roll to other side, 5 kicks
SECOND SET
10 x 100 free 2:00
WARMDOWN
50 easy
Total workout (best guess) = 1,650 yards in ~35-40 minutes
2016 cumulative distance = 60,000 yards (34.1 miles)
I finally made it to the
When you're lost in the Wild, and you're scared as a child,
And Death looks you bang in the eye,
And you're sore as a boil, it's according to Hoyle
To cock your revolver and . . . die.
But the Code of a Man says: "Fight all you can,"
And self-dissolution is barred.
In hunger and woe, oh, it's easy to blow . . .
It's the hell-served-for-breakfast that's hard.



Total workout (best guess) = 2,500 yards in ~90 minutes
2016 cumulative distance = 58,350 yards (33.2 miles)
I don't have a good record of this practice. It was a lot of short reps, & everything was "last 25 fast". Then we did a good deal of drilling on sculling technique. The water & air temperature was way too hot, & I skipped quite a bit.

400 free 25 D/50 S

MAIN SET = 1,750 yards

6 x 75 K/D/S free :20 rest
2 x 100 pull free (can't remember the interval)
20 x 25 K/D/build/fast by 25s, repeat 5 times, choice :40
4 x 75 K/D/S IM order by 75 3:00 (should have been 2:40)
3 x 100 free descend 1-3 2:00

WARMDOWN = 150 easy

Total workout = 2,300 yards in ~60 minutes
I did 2,250 yards - I cut one 50 in the final set of 100s.
2016 cumulative distance = 55,850 yards (31.7 miles)
WARMUP = 400 yards


WARMUP = 650 yards
300 free
100 kick choice
5 x 50 stroke

SETS? = 1,750 yards

5 x 100
1-4 free 1st: 75 easy/25 hard, 2nd: 50 easy/25 hard/25 easy, 3rd: 25 easy/25 hard/50 easy, 4th: 25 hard/75 easy
5 IM

4 x 50 stroke down, free back IM order
3 x 75 mishmash of strokes
25 free to get back to the shallow end of the pool
All on 2:00-2:10 (should've been faster)

4 x
125 IM w/extra 25 free 2:50? 3:00?
75 kick choice 2:00

WARMDOWN = 200 yards

approximately 200 yards easy free

Total workout = 2,600 yards in ~70 minutes
I did about 2,300 yards - I didn't finish the warmup & I cut a 50 in the first set of 100s.
2016 cumulative distance = 53,600 yards (30.5 miles)
This is only a best guess at this workout. I forgot to write it down immediately & it was a confusing workout altogether.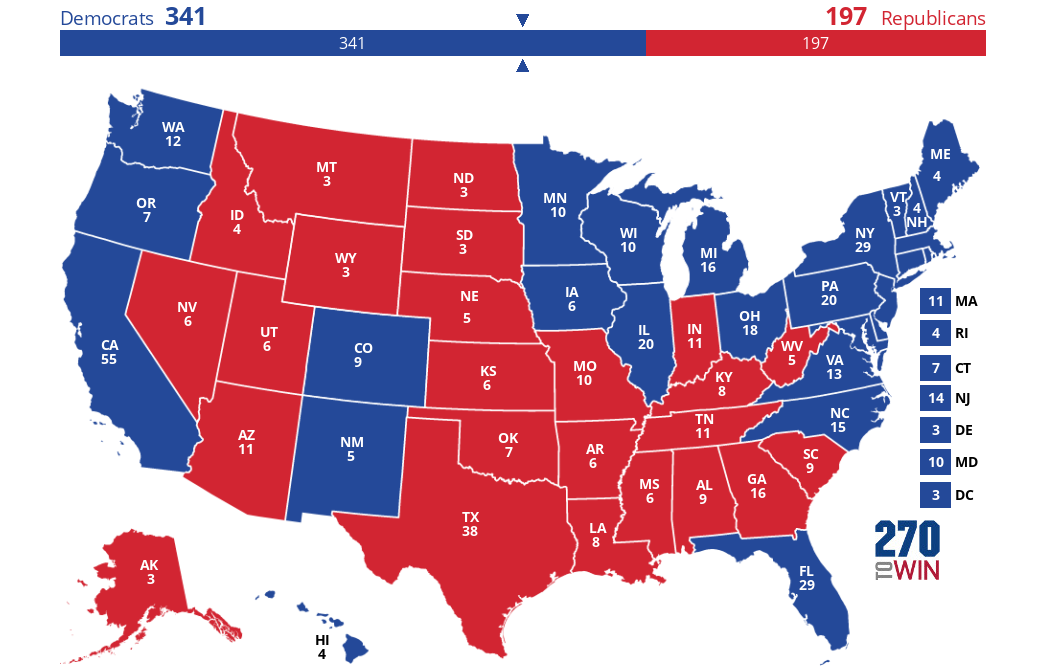 Click the map to create your own at
270toWin.com


WARMUP = 450 yards

450 VERY easy swim free

FIRST SET = 600 yards

8 x 75 25 kick / 25 swim / 25 kick :10 after last person, worked out to nearly 1:00 rest for me
I did an odd melange of all the strokes

SECOND SET = 900 yards

5 x 100 free breathe every 3 2:10
4 x 100 kick very slow interval

WARMDOWN = 100 yards easy

Total workout = 2,050 yards in ~50 minutes
I did 2,000 yards - I cut one 50 in the last set of 100s.
2016 cumulative distance = 51,300 yards (29.1 miles)
First practice back indoors at North High, my first practice in almost six weeks, & a very easy workout because the team's been out of the water for a bit between pool seasons. Thank goodness for easy workouts.
Current Mood:

pleased
My garden is a wreck in progress. Pak choi, broccoli, & cauliflower have all bolted thoroughly. Green onions are wilting and chard can't seem to recover after getting pummeled flat by hail a few weeks ago. The blueberry bushes look good but the berries are puckered. Alas. The tomatoes are growing like crazy though, & I had my first strawberry yesterday. Peppers also look pretty healthy. Next year, that raised bed will be filled with tomatoes, peppers, & other bona fide sun-lovers only, & the cruciferous crowd will go in a box on the north side of the house. I also might try a later crop of broccoli in September, when the sun has lost some of its fierceness.
The fish pond - oh, the fish pond. I fought a valiant fight there, my friends. But
14 hours a day of unfiltered star radiation
has made the algae bloom beyond the control of snails, tilapia, competing plants, shitty filters, & me. The homebrew "filter" I inherited from the previous owners of our house was completely ineffective, so I broke down & paid about $500 for a state-of-the-art Laguna triple filtration system. The new pump & filter should more than double the filtration rate, & will pass the water through a mechanical filter (foam pads that catch gross contamination), a biofilter (lava rocks that incubate colonies of healthy bacteria), & a UV filter (to kill algae, specifically). I got the whole new system set up last night. It
looks
nice - the waterfall sounds really cheery with the increased water flow rate & I replaced the previous white PVC discharge pipe with a much less noticeable black dishwasher hose. I couldn't see a difference in water quality this morning, but online reviews have said it will probably take a week to clear up the pea-soup conditions. I am also planning to reduce the fish population by giving away a few fish to neighbors who are installing a pond. I think that these changes should finally bring the water quality problems to heel -- if not, I will have to resort to chemicals. I predict that I will have to backwash the new system almost every day for the first few days because it's got to remove so much built-up crap.
It's been a summer of learning. And most of what I'm learning has to do with how ridiculously intense the Colorado sun is during June & July.