Going through the files was drudgery, but I noticed some interesting things along the way:
• This petroleum company, which I will not name, is not a famous company. Yet they are operating hundreds (thousands?) of wells in dozens of states. They make acquisition decisions ($5 million purchase here, $18 million purchase there) with lightning speed – based on the correspondence, it's often less than three months from the announcement of a sale to the cutting of the check.
• ALL their environmental due diligence has to happen within that short window. It looks like they are soliciting bids from environmental contractors on Monday, picking someone on Tuesday, sending them to the field on Wednesday, & expecting the report two weeks later. Sometimes for fields with 50-100 wells. It can't be more than that most cursory of field inspections & briefest of records reviews. The acquisitions folks in this game must have serious
cojones
.
• The names of the fields are remarkably poetic &/or funny. I've seen Lonesome, Gooseneck Eld, Southern Comfort, Esperanza, Busy Bee, Zenith Bell, Tensleep, Whiskey Joe, Bayou Galore (perhaps my favorite, as it's a mishmash of French & Gaelic borrow words), Mamie's Meadow, Gold-Come-Free, & many other surprisingly whimsical names. There are more prosaic names as well, of course: fields are frequently named after landowners, nearby towns or waterways. I would've expected some alphanumeric grid naming system from petroleum engineers. I wonder how the fields get named?
• I am surprised at how many little bits of familiarity I keep tripping over in the files. Company names like Geraghty & Miller (an American precursor to the
Empire of the Evil Orange Salamander
), Woodward-Clyde (a legacy firm that's now part of AECOM, like all firms eventually shall be), & Williams Energy Services (Spider-Dad used to work for Wil-Tel, a telecom spinoff of this natural gas company). I saw names of geological formations in Texas where I've drilled wells, & references to different pieces of equipment that I've fussed with. TCEQ forms I've filled out. TDWR permits I've had to file.
• There's a brief period (~1998-1999) where the due diligence punch list included "Y2K Readiness". Remember how worried everyone was about that, & how little actually went wrong? It seems the oil & gas industry took Y2K very seriously indeed.
• Some of these files go back as far as the mid-80s, which is not really all that long ago. Even so, they feel ancient. Letters are addressed non-specifically to "Gentlemen:" – 'cause there ain't no ladies in the oil bidness! The files include VHS tapes of site inspection visits (how would you even play one of those today?). Some of the old well logs are hand-colored with colored pencils, & some of the data printouts are from dot-matrix printers, with the perforated, holed strips along the sides where the paper roll attached to the printer's wheels. There's a lot of the old thermal facsimile paper in these files as well, still smelling slightly burned & smearing at the slightest touch.
• I've decided that Post-It notes are the modern world's version of marginalia. The main author of many of the memos & correspondence in these files was a … pithy man, to put it mildly. Obviously not wanting to put his thoughts directly on file documents, instead he peppered them liberally with Post-It notes, pointing out portions of letters as "Total Bull-SHIT" or "stupid". One had a surprisingly deft doodle showing an alligator's head – drawn during a boring conference call, perhaps?
What did everyone else do at work this week?
For two days this week, work actually pulled me from my Fortress of Solitude (home office) and sent me into downtown Denver, to a client's office. I went through the acquisition files of a petroleum company and pulled all environmental records – why, I know not. Obviously, it was a pretty boring task, but it was sorta fun going into downtown on mass transit, seeing other people, & generally having a NYC flashback. The major drawback was having to dress like an adult (curse you, women's dress shoes!).

10 minute free swim workout.

FIRST SET = 400 yards
8 x 50 25 kick / 25 swim all free :10 rest

SECOND SET = 750 yards
3 x 250 free :30 rest

THIRD SET = 200 yards
4 x 50 kick IM order by 50 1:05 in 1:15 out, more or less

FOURTH SET = 800 yards
4 x 200 free 3:30

FIFTH SET = 200 yards
4 x 50 kick IM order by 50 1:05 in 1:15 out, more or less

SIXTH SET (includes WARMDOWN) = 750 yards
5 x 150 free :30 rest
(Last two reps were my warmdown.)

Total workout = 3,600 yards in ~90 minutes.
I did 3,550 yards (I didn't have time to finish the last 150 before we had to get out).
Cumulative distance with the SQUID = 15,300 yards (8.69 miles).
WARMUP ~ 500 yards


When I got home, I took Shadeaux for a walk & she pulled her 21st disc golf frisbee out of Lakewood Gulch Creek. Between donating blood & rescuing another disc, my karma account is looking good today.
I donated platelets at Bonfils Blood Center again today, with no side effects or dizziness. So the trouble I had last time was hopefully a one-off. My BP was higher this time when I arrived, so that might have been the issue.
Current Mood:

happy

Current Music:

Hozier


Total workout = 3,000 yards in ~65 minutes.
I did 3,000 yards.
Cumulative distance with the SQUID = 11,750 yards (6.77 miles).
I didn't write down the workout, but Coach John said it was 3,000 yards in just over an hour. Workout highlight: a 600-yard set that was breathe every 3 / breathe every 5 by 50. This would have been challenging at sea level; here in the Mile High City, it was impossible for me.
pointless
.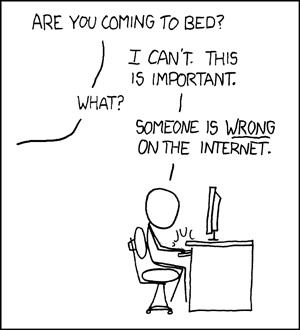 As usual, xkcd nails it.
I do try to limit the scope of my stupidity, however, by only engaging here & there. This week, I've been "in conversation" with a internet-only friend on Facebook. She is outraged by the "thugs" & "punks" protesting in Baltimore, & truly incensed by Lil Wayne's disrespect for the American flag. I have been trying to point out that the people in Baltimore have a lot of legitimate grievances that haven't been addressed when they tried more normal forms of protest, & that while I don't like seeing someone trash the American flag, they have every right to do it.
My friend's very conservative, right-wing rebuttals have usually included references to the facts that members of her family have been police officers &/or served in the US armed forces. She feels that this gives her a special understanding of these situations, or perhaps she feels it gives her feelings more priority. I feel that, in reality, it's almost the opposite. Having family that were police doesn't make you an expert on civil rights - in fact, you probably have an emotional bias in favor of the police that you should consider when you are responding to these stories. Having family that served in the military doesn't give you particular insight into the First Amendment - in fact, you might have an emotional bias regarding our national symbols that you should consider when you are responding to these images.
I too have family that served in the US armed forces. My grandfather fought in WWII as a Seabee, my uncle went to Vietnam, my cousin was a Marine. But their experiences are THEIRS - they don't lend me any righteous patina or extra patriotism. And even if it did, it doesn't make me an expert on Baltimore, race relations, civil rights, or the freedom of speech.
Maybe it's time to stop arguing with people on the Internet for a while.
I'll admit, I'm a slow learner. Despite having been online since the early days of Usenet, I still haven't learned that arguing with people on the internet is absolutely
Current Mood:

irriated & pessimistic

Current Music:

"Fields of Gold" by Sting
hotpantsgalore
was in New Orleans for the last month, I was going days without talking to anyone but my neighbor Steve (& Shadeaux).
But THIS week my isolation has been broken! Bobo Bro is working here until
his internet sitch
is resolved. HPG got home yesterday afternoon, & even though she works outside of our home herself, she is around in the mornings & evenings! And we have had the landlord, repairmen, & delivery folks in & out of the kitchen, trying to fix all the crazy shit that's going on in there. I had my book club over last night for our monthly discussion group, & we had a lovely evening discussing Outlander.
Even more amazing, the Denver environmental group invited me to their monthly meeting today! It is a sign of how starved for human company I am that I was really excited to go to a meeting. But it was nice - I finally got filled in on a lot of the details of the URS/AECOM merger (seriously, I have missed so much). I think I got some project work here in the Front Range. A PM asked me to help him write a proposal. And I was scheduled for some Chevron training so I can help on a big ongoing project in Colorado & Kansas. PROGRESS, FINALLY.
Tonight, HPG & I are going to a pub quiz over in Lakewood, where - one assumes - we will interact with EVEN MORE PEOPLE.
Can't a girl get a moment to herself around here?
So I have been working from home full-time since the beginning of December, more or less. If I'm not in the field, I'm in the spare bedroom. I haven't been in the field very much (a total of two weeks), so I've spent a LOT of time in the spare bedroom. Alone. I'm an introvert, & generally happy with my own company, but it's been a bit much even for me. When
Current Mood:

happy
So over the past couple of days, I've had lots of vegetables spoiling in my fridge. Which is annoying, because I usually buy stuff for a specific recipe. When the collard greens go bad unexpectedly, one cannot prepare a smoke salmon & collard greens scramble. I turned down the thermostat in the fridge incrementally over a couple of days, but the fridge didn't feel cold, & things kept spoiling. The freezer stayed cold though. Another call to the landlord - this time, she didn't argue with me, she just ordered a new fridge. Which will arrive tomorrow. I loaded everything freezable into the freezer & threw out a ton of stuff. CURSES.
My Bobo Bro moved into his new downtown condo over the weekend & his move went incredibly smoothly - until he started looking around for a cable jack to have internet turned on (a big deal, since he works from home & needs internet access). No ... cable jack? Anywhere in the condo? After a lot of calls to the former owner & the condo association, he learned that there is a cable - but it got buried in the wall during a recent insulation project. Why? Because reasons. Anyway, he will not have internet access this week. So his home office has been relocated to my kitchen table, & I'm working from home in the back bedroom while he's working from home out there. It's actually been very nice to have someone to talk to during the day.
hotpantsgalore
should arrive home today!
So my dishwasher died a few days ago. It died in a very tricksy fashion - it would turn on & make lots of dishwashing sounds, but no water would ever enter the machine & obviously no actual washing occurred. It took me a couple of days to convince the landlord that, yes, I looked in the manual, & no, I don't think I've got the settings wrong. Anyway, it's a weird size (read: small) of dishwasher, so the landlord had to special-order it, & I won't have a dishwasher until May 21st at the earliest. Curses.
Current Mood:

a bit frantic

Current Music:

circus music
Friday I finished up my first field work trip of 2015 - two weeks on Arapahoe. It went fine - even less eventful than usual. We didn't even see any rattlesnakes. Shadeaux came with me again, since
hotpantsgalore
is still in New Orleans on a month-long work contract at Touro Hospital. I like having the little furball with me in Sterling - she's happy going to doggy day care all day, & she makes the hotel feel more homey in the evenings.
I was very happy to be back in Denver over the weekend. On Friday night, I met up with Bobo Bro & checked out his new condo. Saturday morning, I went to swim practice & then went out to brunch with the swim team. Saturday evening, reunited with Bobo Bro & went to the Rockies-Giants game at Coors Field. Sunday was a cold, rainy mess, so I stayed in all day & did food prep. I made fish tacos with an avocado/lime sauce that were delicious, & I refined a Whole30 version of the Kashi Mayan Harvest bake frozen dinner (removed grain, added shredded chicken). Of course, after a full day in the kitchen, my dishwasher stopped working. Still working on getting the landlord to fix that.
WHOLE30-FIED MAYAN BAKE HARVEST
Ingredients:
• 1 very ripe plantain (yellow and covered with black spots), peeled and cut into 2" pieces
• 1 chicken breast, washed and patted dry
• 1 cup bone broth or water
• 2 sweet potatoes, washed and diced into ½" cubes – enough to make about one layer on a 9"x 13" pan
• 1 bunch of kale, washed, de-stemmed, and chopped (frozen spinach works too)
• ¼ cup pumpkin seeds
• 3 Tbsp. coconut oil (split)
• 1 onion, chopped
• 3-4 cloves garlic
• 1 x 15 oz. can tomato puree (1 ⅞ cups)
• 1 Tbsp. ancho chili powder
• 1 Tbsp. paprika
• 1 tsp. Aleppo pepper
• ½ tsp. sea salt
Directions:
1. Preheat oven to 400°F.
2. Toss sweet potato cubes in 1 Tbsp. of coconut oil and roast for 15 minutes on a baking tray.
3. Stir the potatoes and add the plantains, then roast for another 15 minutes.
4. Heat 1 Tbsp. of coconut oil in a lidded skillet to medium. Add the chicken breast and cook for about five minutes, until it is golden brown on one side. Add 1 cup of bone broth or water and flip the chicken over. Cover skillet with the lid and let the chicken simmer for 7-10 minutes, checking to make sure it is cooked all the way through. Save the broth or water.
5. Shred the chicken with forks.
6. Add another 1 Tbsp. of coconut oil to the skillet and sauté the onions and garlic until soft and fragrant. Add the kale or spinach and continue sautéing until the greens are wilted.
7. Add the tomato puree, shredded chicken, ancho chili powder, paprika, and salt, and simmer for 10 minutes. Thin sauce with most or all of the saved bone broth or water.
8. When the sweet potatoes and plaintains are roasted and soft, remove them from the oven. Place the potatoes and plaintains in a 9x9" glass dish. Top the potatoes with the sauted onions/greens. Pour the shredded chicken and tomato sauce over everything and top with pumpkin seeds.
9. Return dish to oven and bake for 15-20 minutes.
Serves 4.
I did an apheresis donation today. For the first time EVER (& I've been a blood donor for decades), I felt shaky & sick afterwards. I laid down with my feet elevated for about ten minutes & then went on my merry way. My blood pressure was a little low when I went in (112/62) but that's within my normal range. So I'm not sure what was different.
Current Mood:

comfortably stuffed


350 continuous easy mix - mostly free, some free drill, some stroke

FIRST SET = 400 yards

4 x 50 free build 1:00
4 x 50 IM by 50 build 1:00

SECOND SET = 1,500 yards

3 times through --
2 x 100 IM :30 rest
2 x 75 pull stroke IM order by rep (i.e., first time through fly, second time through back, etc.) :20 rest
6 x 25 stroke HARD :10 rest

TURN DRILL = 300 yards

6 x 50 choice of short-axis stroke starting in middle of pool - focus on fast, legal two-hand turns

NO WARM DOWN (helped take out lane lines)

Total workout = 2,550 yards in ~90 minutes.
I did 2,500 yards (I skipped 50 yards of the breastroke pull, because that shit is ridiculous).
Cumulative distance with the SQUID = 8,750 yards (4.97 miles).
WARMUP = 350 yards