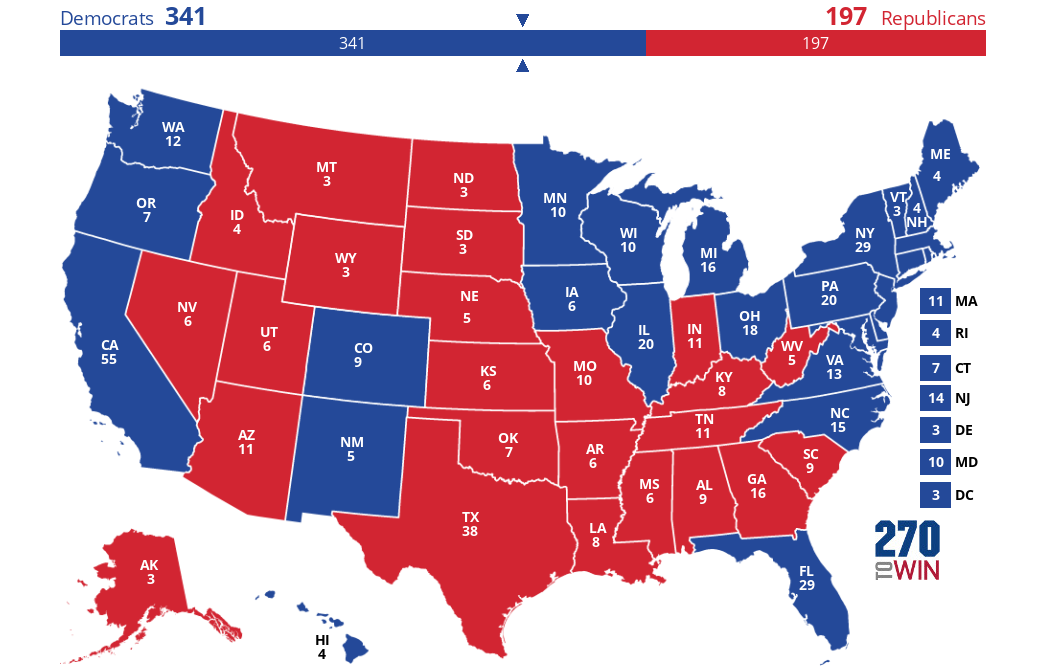 Click the map to create your own at
270toWin.com


WARMUP = 450 yards

450 VERY easy swim free

FIRST SET = 600 yards

8 x 75 25 kick / 25 swim / 25 kick :10 after last person, worked out to nearly 1:00 rest for me
I did an odd melange of all the strokes

SECOND SET = 900 yards

5 x 100 free breathe every 3 2:10
4 x 100 kick very slow interval

WARMDOWN = 100 yards easy

Total workout = 2,050 yards in ~50 minutes
I did 2,000 yards - I cut one 50 in the last set of 100s.
2016 cumulative distance = 51,300 yards (29.1 miles)
First practice back indoors at North High, my first practice in almost six weeks, & a very easy workout because the team's been out of the water for a bit between pool seasons. Thank goodness for easy workouts.
Current Mood:

pleased
My garden is a wreck in progress. Pak choi, broccoli, & cauliflower have all bolted thoroughly. Green onions are wilting and chard can't seem to recover after getting pummeled flat by hail a few weeks ago. The blueberry bushes look good but the berries are puckered. Alas. The tomatoes are growing like crazy though, & I had my first strawberry yesterday. Peppers also look pretty healthy. Next year, that raised bed will be filled with tomatoes, peppers, & other bona fide sun-lovers only, & the cruciferous crowd will go in a box on the north side of the house. I also might try a later crop of broccoli in September, when the sun has lost some of its fierceness.
The fish pond - oh, the fish pond. I fought a valiant fight there, my friends. But
14 hours a day of unfiltered star radiation
has made the algae bloom beyond the control of snails, tilapia, competing plants, shitty filters, & me. The homebrew "filter" I inherited from the previous owners of our house was completely ineffective, so I broke down & paid about $500 for a state-of-the-art Laguna triple filtration system. The new pump & filter should more than double the filtration rate, & will pass the water through a mechanical filter (foam pads that catch gross contamination), a biofilter (lava rocks that incubate colonies of healthy bacteria), & a UV filter (to kill algae, specifically). I got the whole new system set up last night. It
looks
nice - the waterfall sounds really cheery with the increased water flow rate & I replaced the previous white PVC discharge pipe with a much less noticeable black dishwasher hose. I couldn't see a difference in water quality this morning, but online reviews have said it will probably take a week to clear up the pea-soup conditions. I am also planning to reduce the fish population by giving away a few fish to neighbors who are installing a pond. I think that these changes should finally bring the water quality problems to heel -- if not, I will have to resort to chemicals. I predict that I will have to backwash the new system almost every day for the first few days because it's got to remove so much built-up crap.
It's been a summer of learning. And most of what I'm learning has to do with how ridiculously intense the Colorado sun is during June & July.
But I
did
do something pretty cool today: I summitted a 14er! "What's a 14er?" I hear you ask. Well, it's one of the
58 peaks in Colorado
that is taller than 14,000 feet. It's a Colorado thing to try to climb them all. I don't know if that's ever going to be my goal, but at least I can say I did one.
Bobo Bro picked me up at my house at 5 AM this morning & we drove two hours to the
Fourmile Creek trailhead on the southwest side
of
Mount Sherman
. We started hiking right about 7:05 AM.
Folks -- this was tough. The starting elevation was about 12,000 feet. At this altitude, there is about 65% of the oxygen that would be available at sea level. While I am somewhat acclimatized to altitude because I live in Denver (83% of the oxygen available at sea level), I could still definitely feel it. The beginning of the hike was awful - I was literally taking about 10-20 steps, then stopping to gasp for air, then continuing.
But it started to improve - I adjusted the straps on my backpack so they weren't constricting my breathing & I got warmed up. Bobo Bro was super-supportive - he kept picking landmarks on the trail & encouraging me to "just make it there, then stop for a bit". We passed some old mines works, traversed some remnant snow fields, saw lots of other hikers. We weren't going fast but we steadily made progress.
About two miles in, we got to a saddle between Mt. Sherman & Mt. Sheridan. The wind blowing over the saddle was ridiculous! 50 mph at least. Bobo thought it was more like 70-80 mph. It was definitely strong enough to make walking the ridge at the top a little dicey. Lots of people were turning back there. But we decided to try it & obviously we made it successfully.
We spent about 15 minutes on the summit:
The whole experience was quite a mixed bag. It was physically quite unpleasant. The whole "gasping for air" obviously got worse as we went up (14,035 feet = 60% oxygen). Then my fingers swelled up with edema - they looked like sausages. If I had been wearing rings they would've been excruciating. Then on the way down, I started coughing. I sounded like I had a chest cold with a wet, nonproductive cough. My heartrate spiked & I felt like I was going to blow a blood vessel. But we made it back down. As we drove back down to Denver, the swelling in my fingers receded & now (8 hours later), the wet feeling in my lungs has gone away.
So. It was an accomplishment. It was pretty exhilarating to reach the summit & the views were spectacular. But the edema & the cough were painful & frankly a bit scary. I don't think I'll be rushing back up to that altitude again soon. Plenty of great hiking down lower.
Disclaimer: I don't actually have a bucket list.
WARMUP = 500 yards
100 choice (I did free swim & drill)
50 kick back
200 build free
50 free fast
100 reverse IM
This? Was a terrible warmup.
FIRST SET = 750 yards
6 x 75 mostly free:
1-3: 50 free / 25 stroke 1: stroke on 1st 25, 2: stroke on 2nd 25, 3: stroke on 3rd 25
4-6: all free 1: fast on 1st 25, 2: fast on 2nd 25, 3: fast on 3rd 25
12 x 25 all free:
1-6 :30, 7-12 :25
SECOND SET = 750 yards
5 times: 1 x 125 then 1 x 25
125s: 1-4 IM plus an extra 25 of one stroke, 5 all free w/1st & last 25s fast
25s: kick, scull, 3 breaths, 2 breaths, 1 breath :10 rest
THIRD SET = 100 yards
Relays! 4 relays, each member swam a 25. I did a 25 fly sprint & it felt AWESOME!
WARMDOWN = 200 free easy
Total workout = 2,300 yards in ~55 minutes
I did all 2,300 yards.
2016 cumulative distance = 49,300 yards (28.0 miles)
Hey hey, I made it to all three practices this week!

300 free moderate (mix of swim/drill)
2 x 100 kick
2 x 100 IM drill
200 50 free / 25 stroke

FIRST SET = 2,000 yards
4 x 250 200 free + 50 IM order 4:30?
8 x 50 odds: short-axis drill, evens long-axis drill 1:10?
300 75s IM order (25 drill / 25 kick / 25 swim)
300 free alternate 50 breathe every 3 / 50 breathe every 5

WARMDOWN = 175 yards
100 IM drill
25 butterfly
50 backstroke

Total workout = 3,075 yards in ~85 minutes.
I did 3,025 yards.
2016 cumulative distance = 47,000 yards (26.7 miles).
WARMUP = 900 yards


400 mixed free/back with some drills

FIRST SET = 300 yards

12x25 :30
odds: kick as far as you can off the wall, then freestyle
evens: stroke (I did IM order by 25)

SECOND SET = 1,800 yards

1-3: free 2:40
4-6: IM (no free) 3:20
7-9: kick (I did a mix of free, breast, & back - no board) 3:20
10-12: free 2:40

THIRD SET = 300 yards

100 easy free
8x25
odds: sprint free :25
evens: easy free :30

WARMDOWN = 200 easy free

Total workout = 3,000 yards in ~75 minutes.
I did 2,900 yards.
2016 cumulative distance = 43,975 yards (25.0 miles).
WARMUP = 400 yards
Current Mood:

satisfied


300 choice (I did free, 50 drill / 25 free)
200 pull
100 kick (I did IM)
50 scull

FIRST SET = 450 yards

3 x 25 free :30
75 stroke (I did IM-free) 1:15
3 x 25 stroke (I did IM-free) :30
75 free 1:15
3 x 25 stroke (I did IM-free) :30
75 IM-free 1:15

MAIN SET = 700 yards

150 free breath control increasing by 50 2:15?
2 x 75 1 pull off wall before breathing, then 2, then 3 1:15?
3 x 50 stroke in IM order 1:00
10 x 25:
1-3 free descend by 25 :30
4 kick back :45
5-7 free descend by 25 :30
8 kick back :45
9-10 free HARD :45

We were supposed to do this set twice, but we didn't have anywhere near enough time.

WARMDOWN = 200 yards easy

Total workout = 2,000 yards in ~55 minutes.
I did 2,000 yards.
2016 cumulative distance = 41,075 yards (23.3 miles).
WARMUP = 650 yards

300 50 free/25 stroke

MAIN SET = 2,400 yards
6 x 50 odds: free, evens: kick
300: 100 free / 100 IM / 100 free
:30 rest
150 free
150 IM (minus the free)
6 x 100 free 1:45 <-- This was HARD for me.
12 x 50 1:05 odds: free, evens: stroke (IM order by 50)
300 free: good flip turns, no breathing before flags

WARMDOWN = 0 yards

We played on the water slide :-).

Total workout = 2,700 yards in ~75 minutes.
I did about  2,500 yards.
2016 cumulative distance = 39, 075 yards (22.2 miles).
WARMUP = 300 yards


All free:
200 swim
50 kick
25 scull
50 kick
100 build
25 fast

MAIN SET = 1,950 yards

3 x 100 free 1: 1st 50 fast, 2: middle 50 fast, 3: last 50 fast 1:45
6 x 75 odds: breathe every 3, evens: breathe every 5 1:45
9 x 25 odds: build free :30, evens: kick back :50
75 easy free
3 x 200 odds: free, evens IM 3:10 (?)
6 x 50 build free 1:00

WARMDOWN = 200 yards

200 free easy

Total workout = 2,550 yards in ~65 minutes.
I did 2,500 yards (I skipped a 50 in the 200s).
2016 cumulative distance = 36,575 yards (20.8 miles).
WARMUP = 400 yards
Current Mood:

happy

Current Music:

"Ophelia" by the Lumineers